Hello everyone, I am Zhao Ruifeng, a research student in the
Empowerment Lab. I hope you are all keeping well. Today, I'm
so honored to share the Smile Action study meeting that held
on 18th Mar. As corona is still very serious, we are still holding
this conference online.
"Kids are the future." In order to make children grow up healthily,
childminder is particularly important in this era. With the development
of technology, the major of Child Care is becoming more and more
mature and has become a very professional job. It depends on everyone
through their own will, knowledge, technology, and high professional
ability to make the field of Child Care development better and better.
But with the improvement of professionalism, we also want it to continue
to better development, so the standard of entry into this major is
getting higher and higher. We need more professional talents, so how
to retain talents has become an important topic.
From sennseis' discussion, I know that the profession of childminder
is very stressful nowadays. It not only faces the problem of talent
shortage and unsatisfactory salary, but also has strong professional
requirements. To enter this occupation, it is necessary to obtain
qualification certificates and master relevant skills. Such a high level
of professionalism deserves more reasonable treatment, to ensure
that talent will not be lost. Bringing in talent from abroad may be an
option, but Japanese language skills are also a barrier, as communication
is also part of the job. To solve these problem, we need to consider
from many aspects including law, economy, talent training and
technological development. Through this meeting, I learned new knowledge
related to the nursery professional that I had never known before from
the teachers' discussion, understood the situation of this profession,
and broadened my horizon.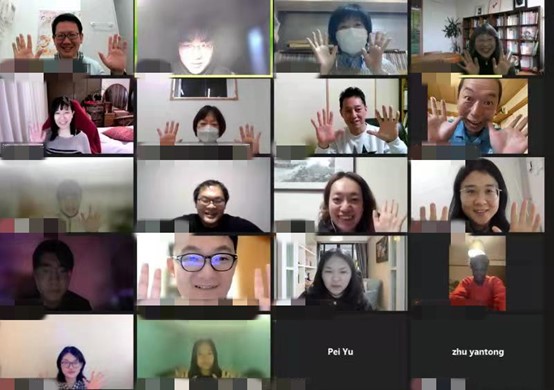 Finally, through the introductory video Watanabe sensei showed about
nursery, we all have a deep feeling. In the warm conversation, this meeting
came to an end. We all enjoyed this smile action study meeting and look
forward to the next one!
Hello everyone.
I'm Wang Mengxuan. It's my honor to share this special party for you.
According to the tradition of Tsukuba University, the graduation
season is usually in March. March is a beautiful season, with
everything reviving and sakuras blossoms blooming. After our
empowerment seminar, we held a congratulation party for graduate
master Zhang and master Afsari and doctor Ammara to congratulate
their graduation.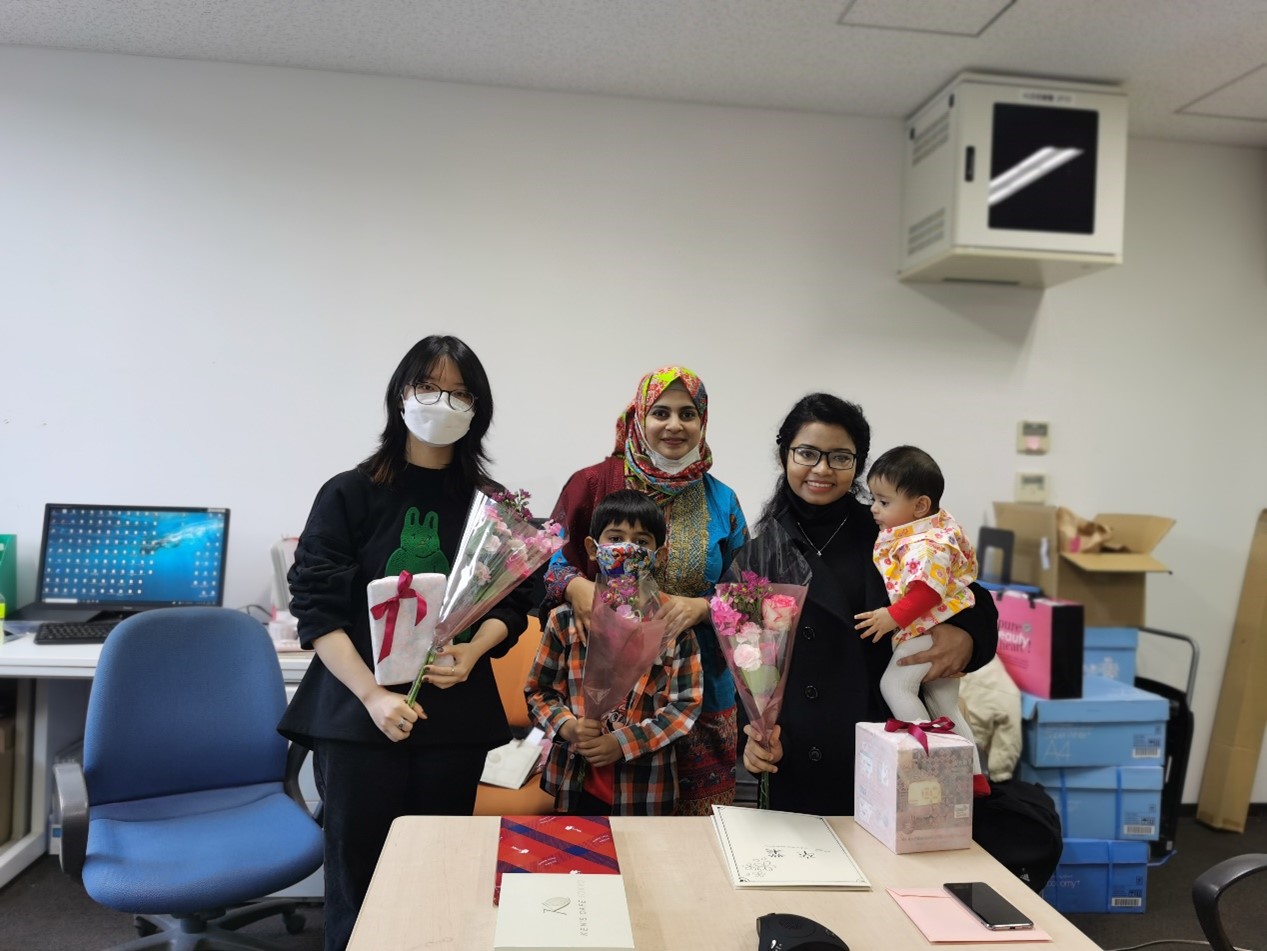 At the party, Anme sensei and other members sent the best wishes
to them. They expressed their feelings for the past years. There are
too many precious memories and experiences in life and study. They
also thanked Anme sensei for her guidance and others for their help.
Then, Anme sensei gave Ammara a wooden clock, a car to her son and
an elephant doll to her daughter. The lab members gave them graduation
gift too. They also gave teacher their gifts, Ammara's son gave Anme
sensei a card, thanking the teacher for her care and guidance, and also
thanked the help from lab members.
Finally, we took photo together and share Afsari's chocolate.
It was delicious, thank you.
March is a gentle month, spring is coming, everything is full of vitality.
Graduating in March is the best wish for graduates, which means they
are start a new journey in life. Even if we will have a long distance, we
will always support them no matter where they are.