With the severity of the COVID-19, please take good care of
yourself.
Hello, everyone! I am Wingy Lai, first year master student
studying in our Empowerment Science Lab. Today, I am glad
to enjoy the empowerment seminar with you guys.
The empowerment meeting is about child health promotion
and professional experience in childcare practice. Thank you
all participants for taking the time to have a cafe workshop
today. And also, thank you Anme-sensei gave a warm opening to us.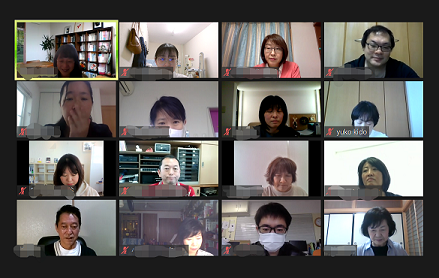 After listening to all the professional speeches, I would like to
share what I learned today. First, let us imagine how hard it
is to raise a child while parents have to deal with their full time
jobs. It is really helpful if corporates can provide assistance.
Second, I love this idea as it's trying to lead the beginner parents
to their successful child raising. So much information we can access
within our daily life, so that the quality of the information should
be the most important thing. The seminar suggests how we can
deliver a practical supporting method to those kids who care in need.
Nowadays, everyone can access social media, maybe we can find a
breakthrough in that virtual market. It sounds sweet and delighted
and I cannot help to see the progress.
To summarize, I'm so glad to attend the seminar today and so
appreciate learning a lot of professional information. Such as using
different methods that could be found out for those children who
are facing domestic violation. It is a very meaningful time and
inspires me to conduct better research. Next time, I wish I could
learn more from the seminar.
Let us look forward to the next empowerment café workshop!
Hello everyone I'm Yolanda Graca 1st year Ph.D. student in
our Empowerment Science Lab. Today I'm glad to share this
blog with you.
Just as the new school year has started, with a fresh new
beginning class has also proceeded gracefully.
Today Was the first day of International Development Care
class which is thought by Sensei Tokie Anme for the fourth-year
undergrads Nursing Student.
The class began with and self of introduction of the Empowerment
Lab students which are a combination of PhD's and Master student
from various nationality and background.
Sensei defined the meaning of Empowerment and the importance
of Cohort Studies. The last part of the lecture was on the Importance
of Empowerment and how we can practice, through Self, Pair, and
Community. In how we shall use, each of them during any
circumstances in people lives. Mostly the three types which is Hope,
Dream, Self-effeteness, should be used when empowering.
The students' interactions during the class were very positive
everyone participated welly.
With the severity of the COVID-19, please take good Care
of yourself.
Hello, everyone! I am Liu Yang, a first year Ph.D student in
our Empowerment Science Lab. And today I am glad to share
the welcome party with you.
Our new number is:
LAI WING YEE (Hong Kong)
ALA' AHMAD ABDEL-RAHIM SHANNAQ, (Jordan).
YOLANDA (Angola)
LI XIANG (China)
ZHU YANTONG (China)
CUI MINGYU (China)
LIU YANG (China)
WANG YANLIN (China)
QIAN MEILIN (China)
We are now a big family from all over the world.
After our weekly empowerment seminar, the welcome party
has started. Due to the special period of the COVID-19, some
numbers have to use video to see and talk to each other. But
it didn't diminish our enthusiasm. We are pumped to welcome
all new members and give our best wishes to them.
In addition, under the guidance of the professor Anme, we
wrote our own IKIGAI, which helped us think a lot and believe
that everyone will play their greatest potential in the future.